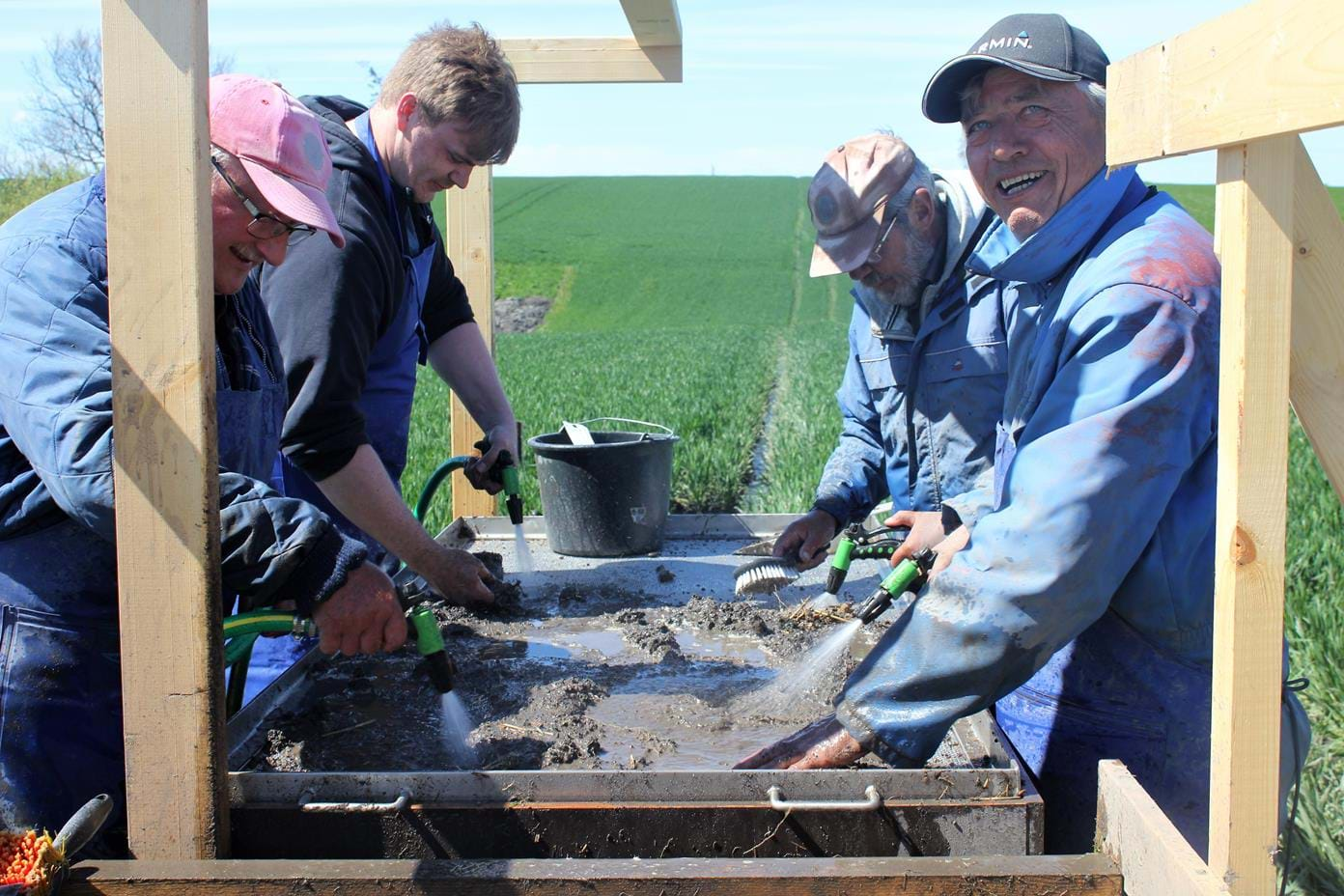 ARCHAEOLOGICAL EXCAVATION AT SORTE MULD
Visit the archaeologists at the site
From Monday to Saturday @10:00-14:00 students from the archaeological department at Aarhus University are ready to share their knowledge about the excavation at Sorte Muld (Black Soil). Meet them at Korshøje 14, 3740 Svaneke until June 7th 2019.
When you enter the small container hut, the audio-visual narration will take you on a journey back to where the gullgubber fulfilled our wishes and freed our minds from worrying. The audio-visual narration is created by Sansâga and Jesper Lind, and it describes how the gullgubber was used at the time and how they all independently tells a story.
In the bigger container hut you can read about the projects at Sorte Muld, see a selection of the many findings, and learn about the history in that surrounds you.
At the excavation area you will meet more archaeologists students, volunteers with many years of experience, and archaeologists from Bornholms Museum. They are all eager to guide and explain the processes of an excavation.
The project is created in a collaboration between Aarhus University, Lund University, Gdansk university and Bornholms Museum.
Sorte Muld - a power center
Sorte Muld is located on a ridge near Svaneke in parish of Ibsker. From there they have been able to see the coast in Gudhjem in North to Nexø in South, and when they looked East they could see Christiansø.
Concluded from the knowledge we have from Sorte Muld and the nearby area, this place most probably dominated the island's political, economical and religious decisions in the Iron Age. We also believe that this is where the King of the island lived.

Sorte Muld covers an area over one square kilometer with 'satellite villages'. The area seem to have been inhabited from approx. 700 BC to approx. 800 AD. Sorte Muld had its rise in the Germanian Iron Age (375-750 AD). Already in the Roman Iron Age, the area most likely played a key role.
Why Sorte Muld (Black Soil) is black
The black colour at Sorte Muld derives from the accumulation of charcoal and organic material (animal bones and fish bones), which have been accumulated over decades.
The pH-value on the site is unusually high, also when comparing to the island's other preserved cultural soil layers from the Iron Age and Viking Age.
The book about Sorte Muld
After 25 years of investigations at Sorte Muld, the many archaeologists involved has chosen to make a make status with the publication Sorte Muld. In total 24 different people from professional archaeologists, other professionals and amateur archaeologists have contributed in the making of the book. But even after 25 years of work at Sorte Muld, more studies are still needed to fully understand the place.
Gullgubber
Today, Sorte Muld is best known for its almost 2,500 nicely processed gold foil figures, called gullgubber. Besides the gullgubber there have also been many other sensational findings, such as large gold and silver treasures.