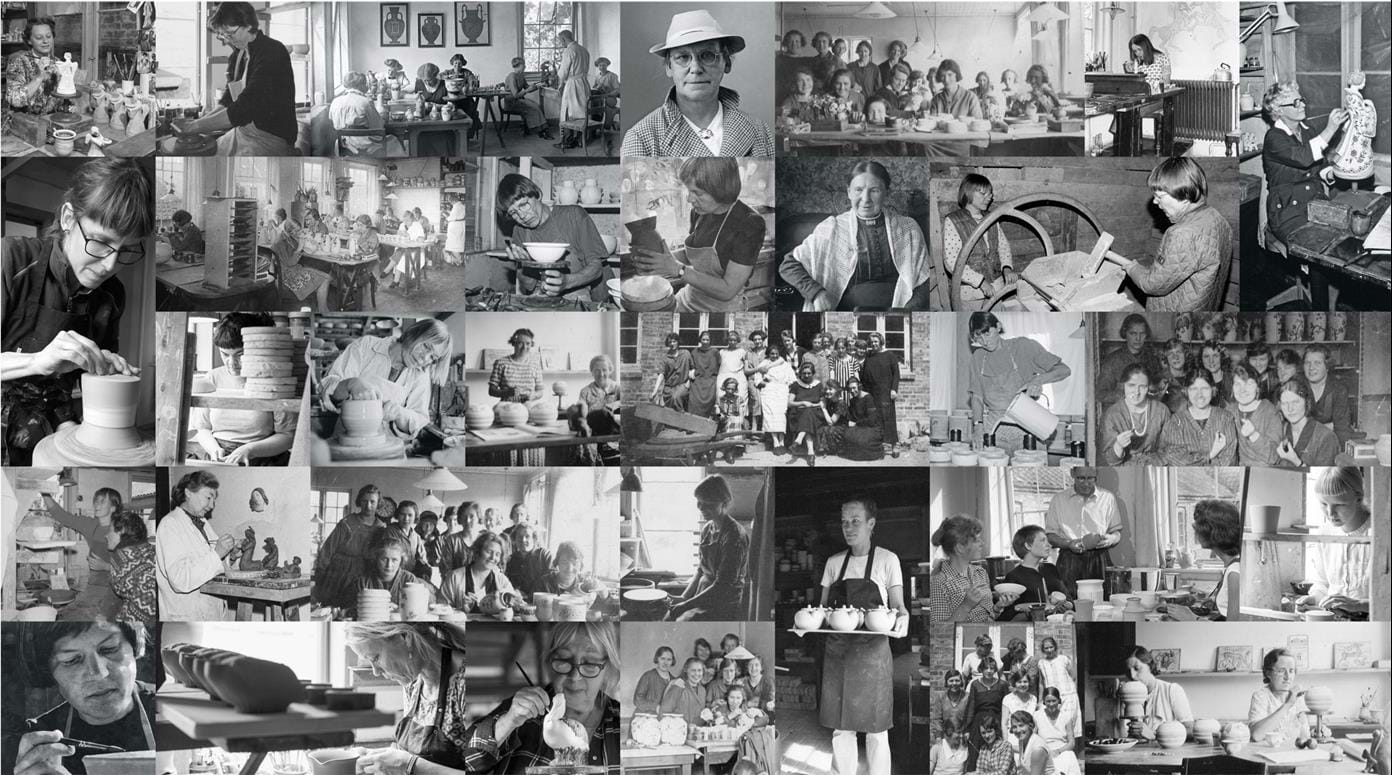 THE WOMEN AT HJORTHS
THE WOMEN AT HJORTHS PAVED THE WAY
The work with clay and ceramics is both dirty and physically stressful why it began as a craft for men.
In this exhibition we take a closer look at the women at Hjorths Fabrik because they have had an important role and influence on the work at Hjorths since the very beginning in 1859.
We partly present the 'invisible' women in the administration and in the painting workshop whom influenced the production and the artistic expressions in the ceramics.
And partly we tell the story about the more well-known female ceramicists who left their mark on the fabric's external and visual identity from 1980s until today.
These women were part of a development that, over time, resulted that from the 1970s there were more female than male ceramicists. Which is still the case today.
 
FROM MALE PROFESSIONS TO FEMALE PROFESSION
FROM MEN'S SUBJECTS TO WOMEN'S SUBJECTS
The fact that the profession as a ceramicist has become a female profession is in a way a success story for the individual ceramicists.
However, one of the reasons why women were able to get into this profession may also be due to the fact that handicrafts did not have, and still do not have, the same status as 'real' art.
It is only a selected number of female ceramicists we have chosen to present with their works in the exhibition. Many others could have been highlighted. Here is a short list of some of the other important women in the ceramics who are also related to the history of the factory;
Gertrud Vasegaard  -  Lisbeth Munch-Petersen  -  Ursula Munch-Petersen  -  Eva Brandt  -  Birgit Andersen  -  Anne Christensen  -  Ulla Garn  -  Mille Heerup  -  Jane Reumert  -  Eva Sjögren  -  Grete Westh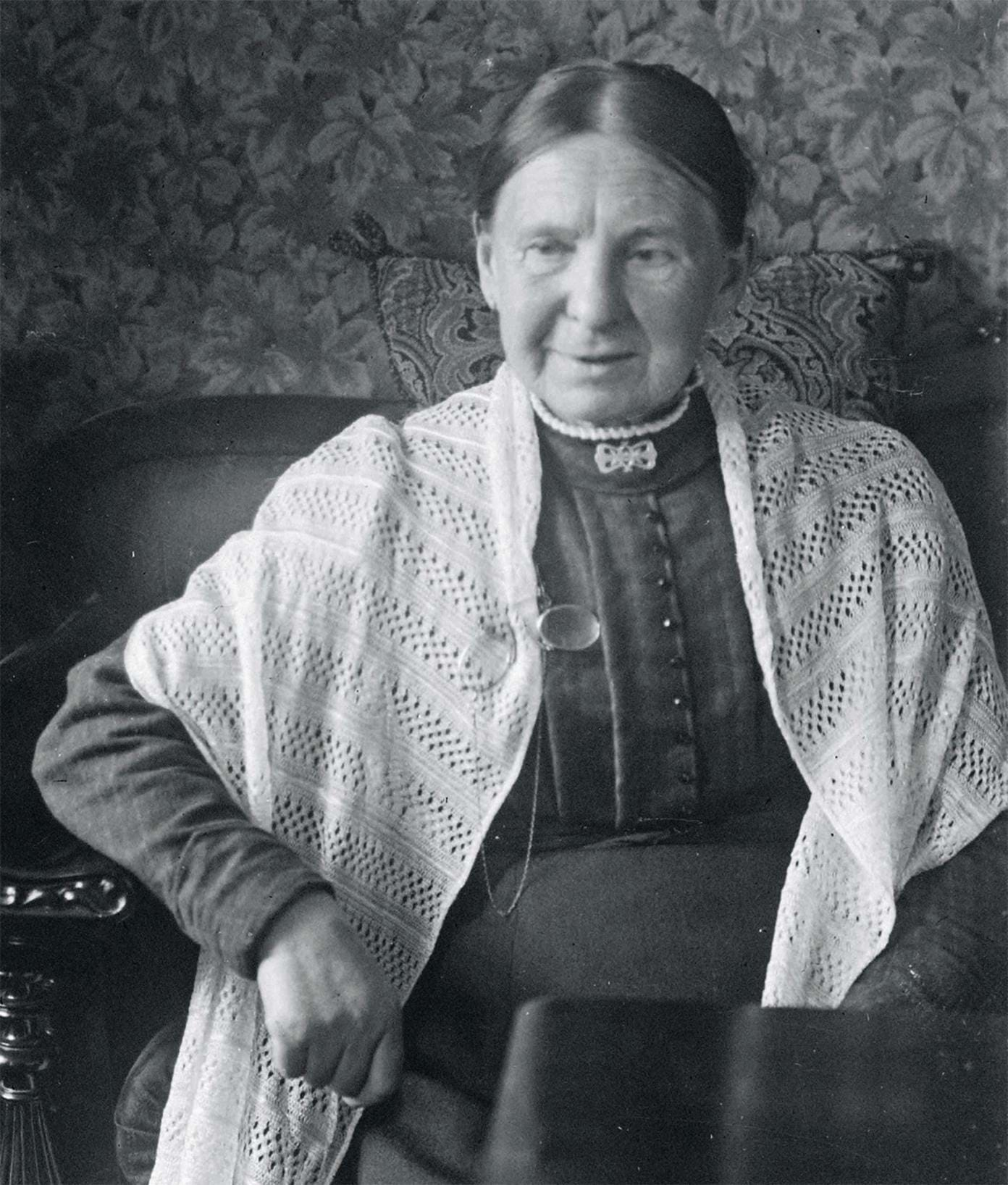 THE FOREMOTHER
– AGNETHE HJORTH
Hjorths Fabrik's founder Lauritz Hjorth married Agnethe Wolffsen (1840-1908) in 1862. She was a daughter of the ceramics factory Søholm's founder, which meant that Lauritz had access and acnkowledgement from the local business industry.
Throughout their marriage and until Agnethe's death in 1908, she helped as much as she could. The family described her as "our all-sacrificing Mother", and how she came to rescue no matter the size of the challenge. She knew the pottery industry from her childhood home, and she was interested in the work.
Besides taking care of the household, she also helped to varnish, paint and pack the ceramics, and moreover she also took care of the customers in the shop. Next to all that she also helped with bookkeeping and correspondence.
And in between the many tasks and household, Agnethe also had eleven children, all of whom lived to adulthood. It is therefore no exaggeration to say that Agnethe is the progenitor of the numerous Hjorth family.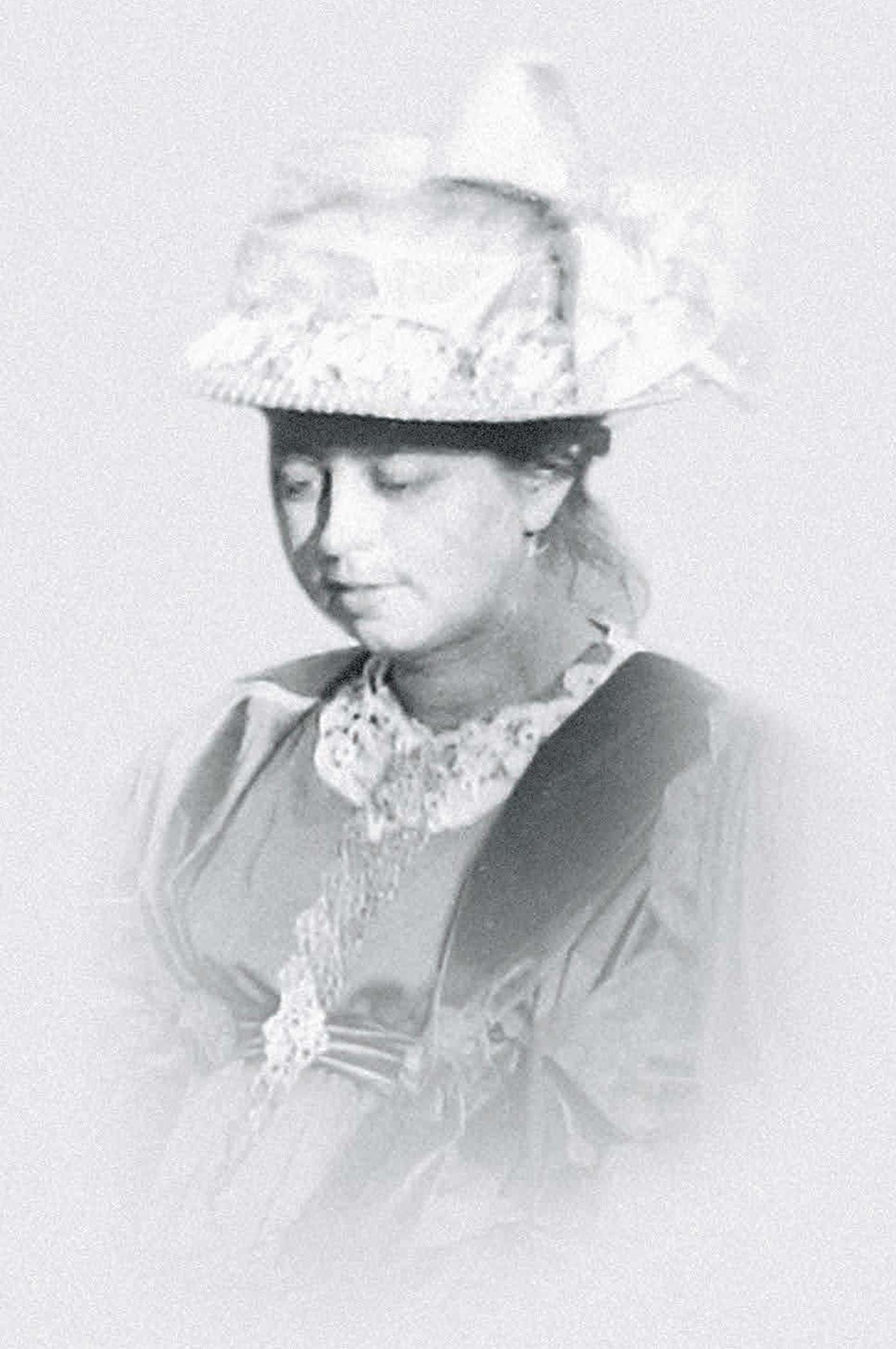 I SIN MANDS SKYGGE
– JOHANNE HJORTH
Johanne Hjorth (1877-1955) blev i 1908 gift med Hans Hjorth og var oprindeligt uddannet som kunstmaler ved Kunstakademiet i København. Da hun blev gift opgav hun en selvstændig kunstnerisk karriere, men hun bidrog jævnligt med designs til fabrikken.
Mærkeligt nok kan det ikke ses, at Johanne har bidraget med skitser til dekoration af fabrikkens stentøj. Men vi ved, at det var hende, der i 1920'erne udformede det karakteristiske logo med en hjort.
Johanne og Hans Hjorth blev skilt i 1931, hvorefter hun flyttede til København og mistede kontakten til Hjorths Fabrik.
Hans og Johanne fik sammen døtrene Gertrud og Lisbeth. Gertrud blev gift Vasegaard, og blev en af det 20. århundredes vigtigste danske keramikere. Lisbeth blev gift Munch-Petersen og blev også en fremtrædende keramiker.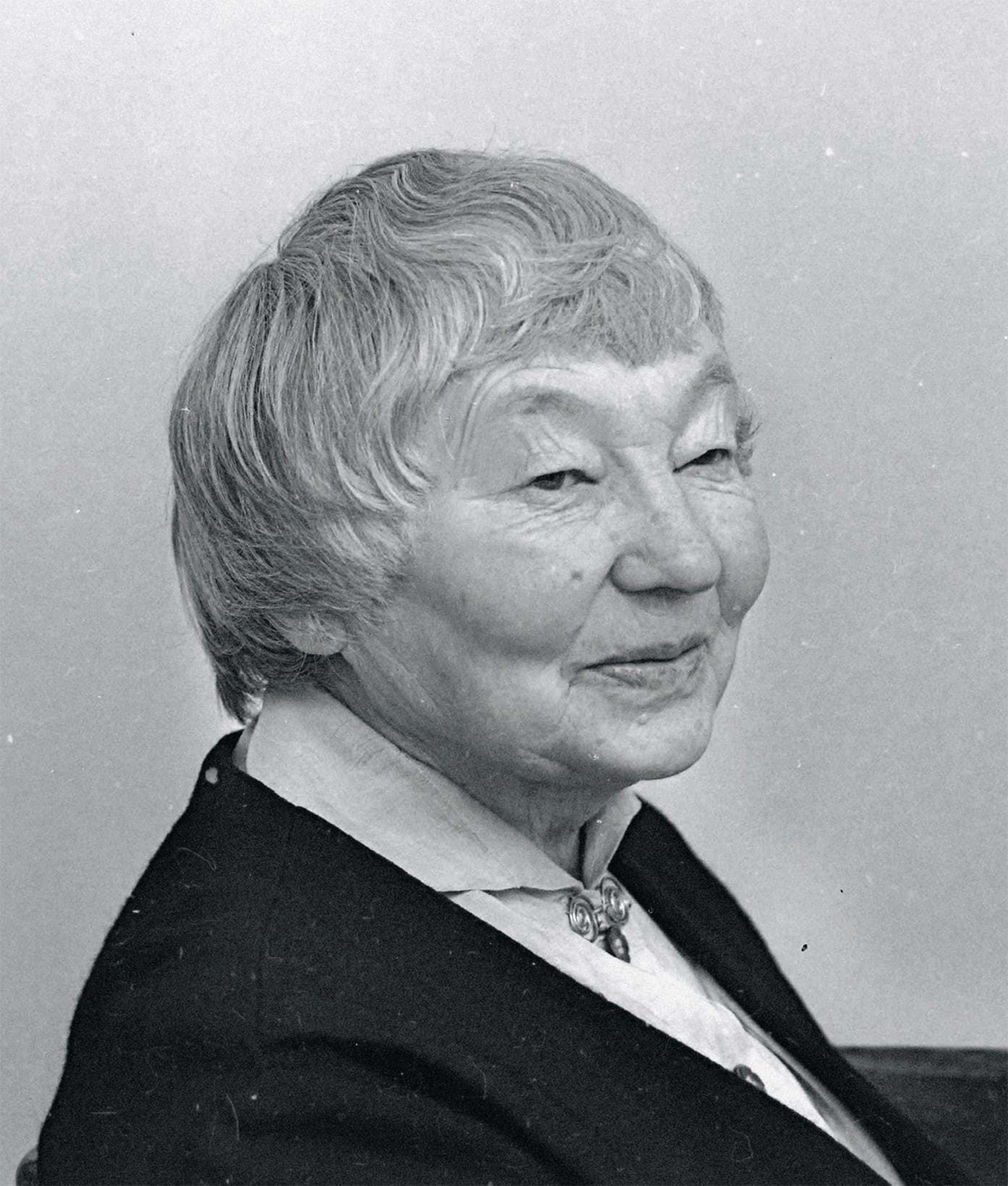 A FOREIGN BIRD
– GERTRUD KUDIELKA
Gertrud Kudielka (1896-1984) came originally from Mähren in what we today know as Czech Republic. She got educated from different art colleges in Prague, Weimar, Vienna and Berlin in the 1920s, and she also stayed for a long time in South Italy, where she worked for a local ceramicist.
In the 1930s, Kudielka was at Hjorths Fabrik for several periods and here she established a good relationship with the Hjorth family. After World War II, she fled from what was then East Germany and returned to Rønne, where she was employed at the factory until her retirement in 1964.
At Hjorths Fabrik, Gertrud Kudielka had great impact on the design and shape of the production. She made a collection of small figures in happy colors. Also vases, tiles and reliefs decorated with animal shapes and human figures that clearly drew on traditions both from the Moravian folk art and from the southern Italian ceramics and faience production.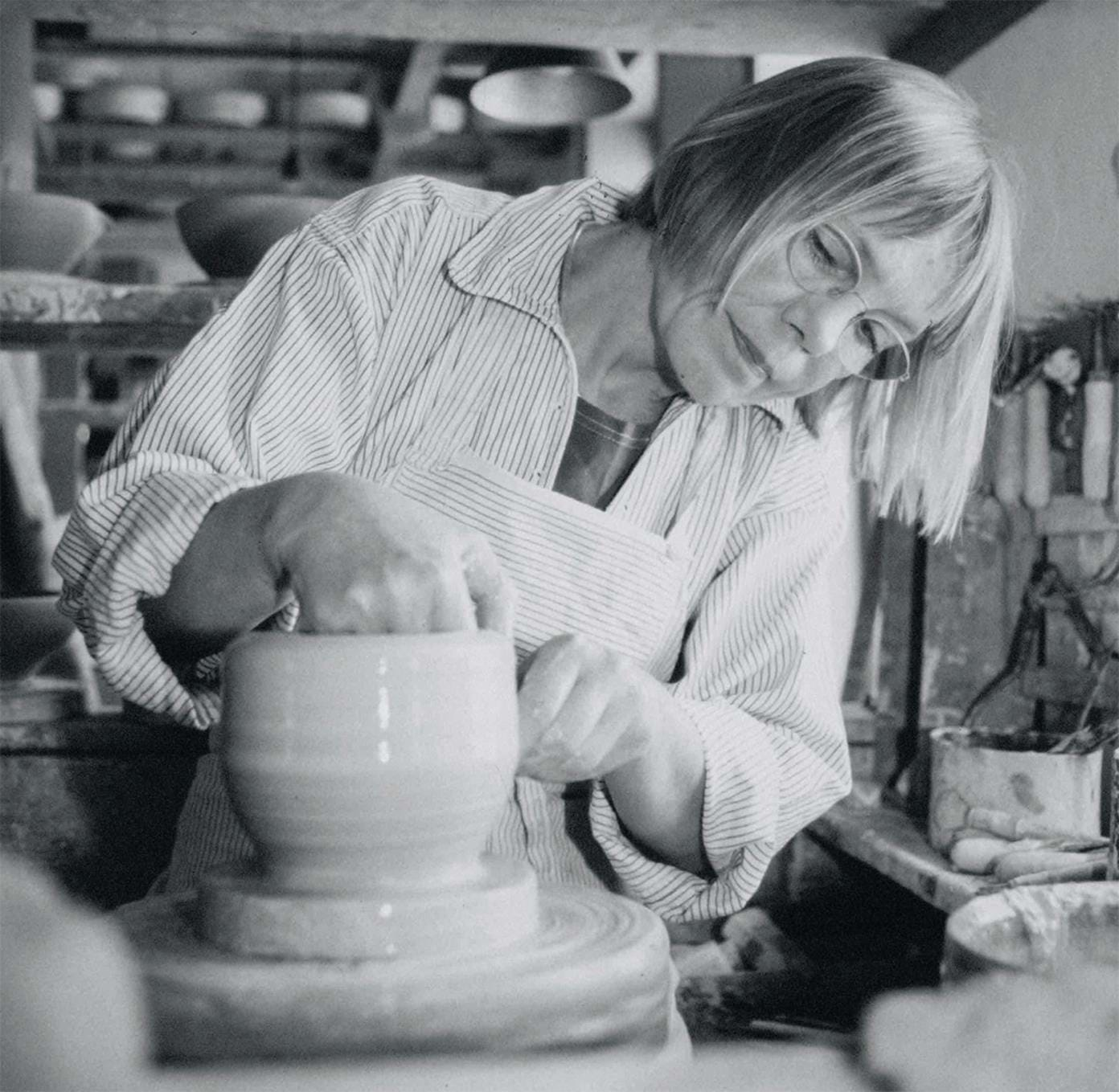 THE EXPERIMENTER
- MARIE HJORTH
Marie Hjorth (b. 1941) is the daughter of Erik Hjorth and graduated from School of Arts and Crafts in Copenhagen in 1964. She managed Hjorths Fabrik together with her sister Ulla in the 1980s. At this time, women were widely accepted in the profession, and it was only natural that they run the factory together, as their father and uncle had done in the generation before them.
Unfortunately, the great interest in ceramics among both Danes and tourists disappeared in the 1980s, why the production and economy were ailing. It could have been the end of Hjorths Fabrik, but thanks to support from the municipality and foundations, it was possible to preserve the factory as a working museum under Bornholms Museum.
Marie Hjorth experimented with new shapes and materials and has, among other things, made larger reliefs and decoration tasks both in Copenhagen and on Bornholm. Marie served as general manager of Hjorths Fabrik after Bornholms Museum took over the operation in 1995.
She resigned in 2007, but still has her own workshop at Hjorths Fabrik, where she works with her own works.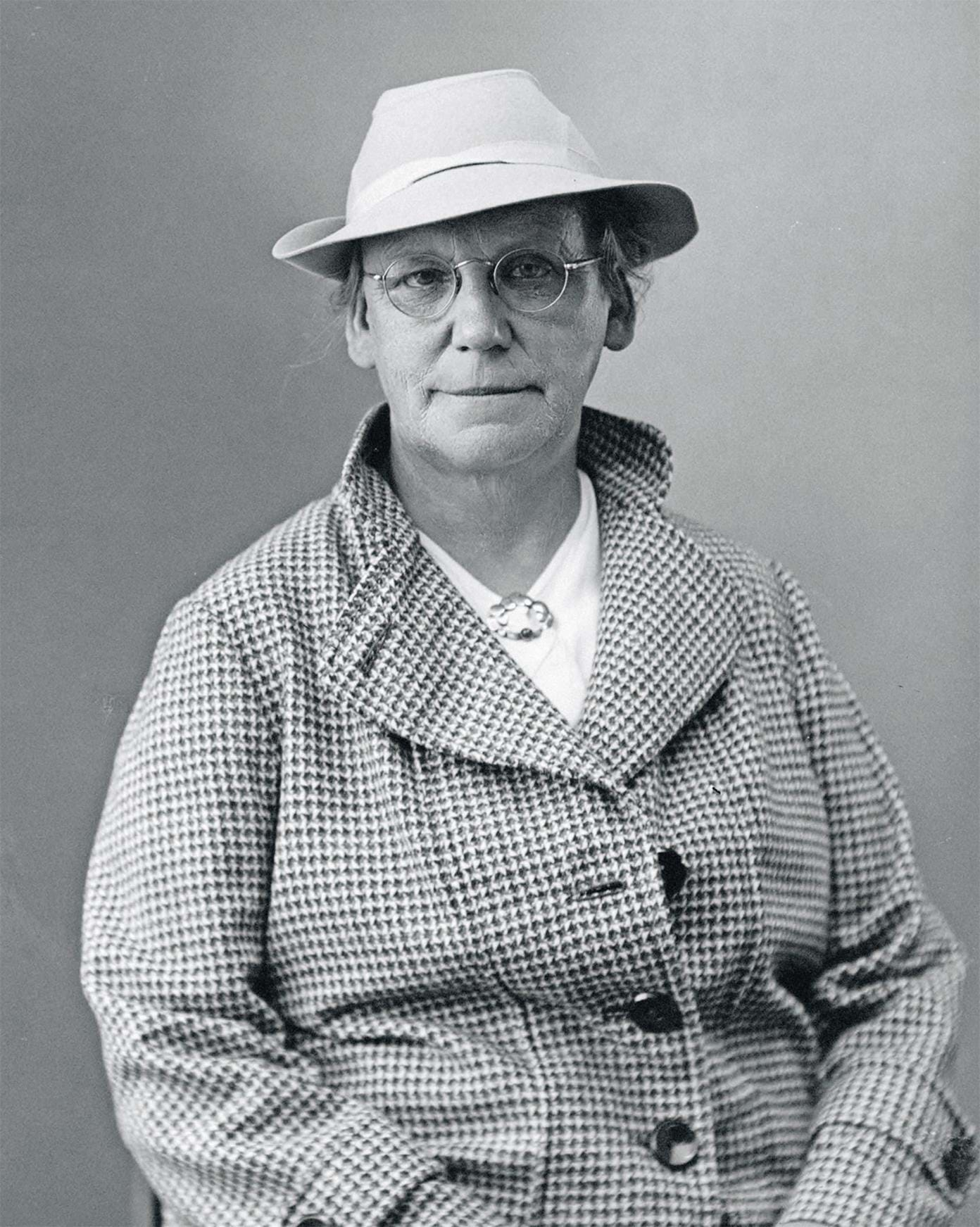 THE WOMAN WITH THE DESIGNS
– THORA HJORTH
One of Lauritz and Agnethe's elleven children, was Thora (1875-1970). She was gifted with the same artistic talent as her father. She studied at Kunstnernes Frie Studieskole in Copenhagen.
When the brothers Hans and Peter took over the operation of the factory after Lauritz's death in 1912, Thora naturally took over the management of the painting workshop.
She especially mastered the art deco and art nouveau-inspired decoration of the gray-brown stoneware, which was a great commercial success in the 1920s and until World War II.
Among the collection of designs for the decoration of the stoneware, many are signed with the characteristic TH. She also introduced a new glaze production, where she used marble glaze with Japanese-inspired decorations on the factory's products.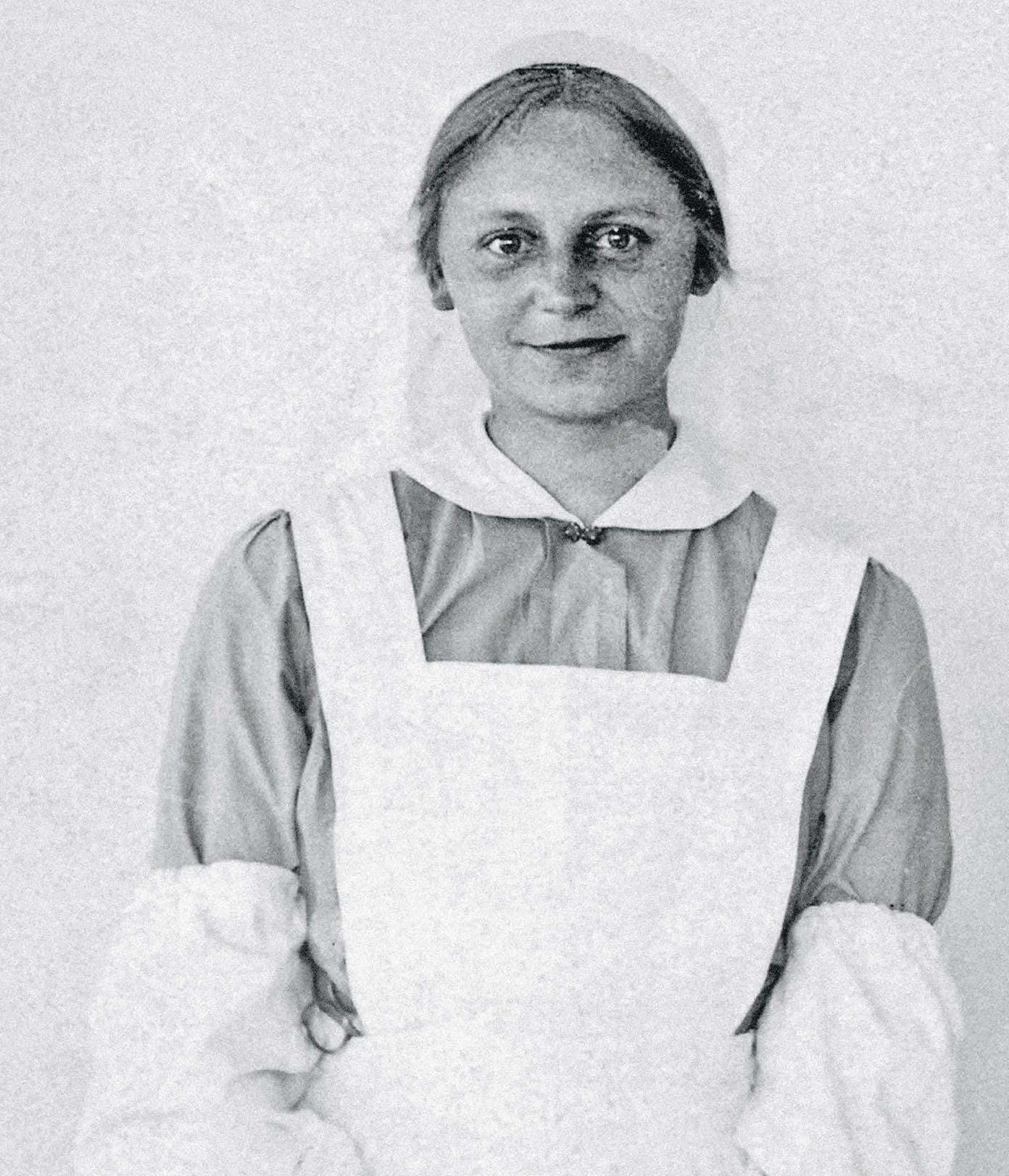 EN ANDEN VEJ
– SYGEPLEJERSKEN VALBORG HJORTH
Ikke alle kvinder i Hjorth-slægten valgte at blive kunstnere og keramikere. Den yngste af de elleve Hjorth-søskende, Valborg Hjorth (1878-1970) blev uddannet som sygeplejerske og blev ganske kendt for sin indsats som krigssygeplejerske.
Hun deltog som sygeplejerske ved den 1. Balkankrig i Konstantinopal i 1912, ved Vestfronten i Belgien i 1915 og i Petrograd i Rusland i 1916.
Hun kom også til Estland i 1917 og var i 1918-20 ved de danske lejre for sårede krigsfanger i Horserød og Hald. Hun skrev om sine spændende oplevelser i en fascinerende erindringsbog.
Efter 1. Verdenskrig blev hun oversygeplejerske på Blykobbe Tuberkulose-sanatorium. Her arbejdede hun indtil 1943, hvor hun blev pensioneret.
Efter sin pensionering hjalp hun til med bogføring og korrespondance på Hjorths Fabrik. Valborg er et godt eksempel på, hvordan det internationale udblik og åbne sind, der prægede familien Hjorths keramik, også kunne omsættes til andre virkefelter.
Hendes livsbane viser også, at fabrikken aldrig helt slap sit tag i familien.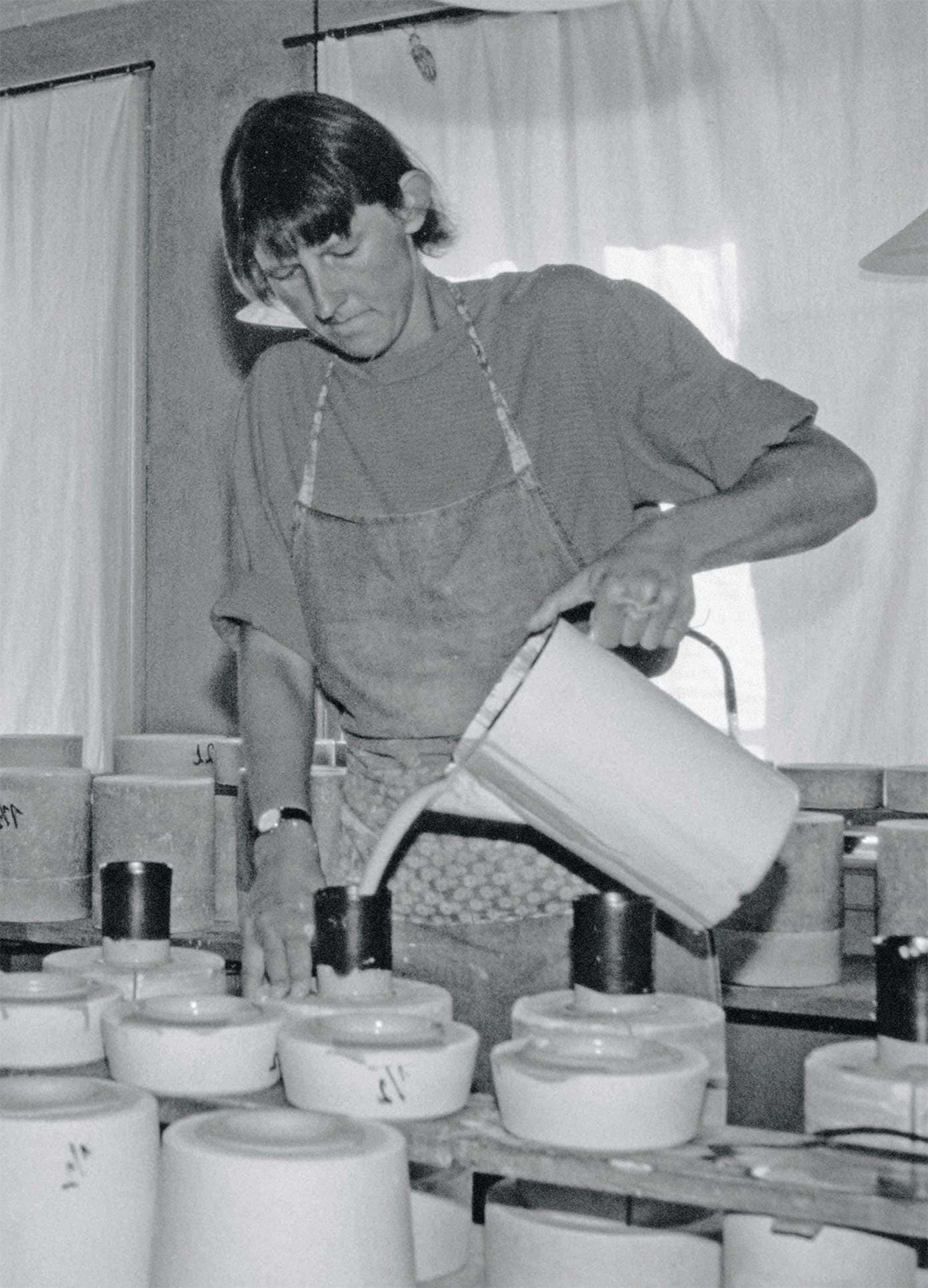 ENGLISH INSPIRATION
– HANNE STANGE
Hanne Stange (b. 1954) graduated from the School of Applied Arts and Crafts School in Copenhagen where she studied in 1975-1981. She also studied in England for a period.
On Bornholm she drove around on her bike to meet potters with whom she felt in tune. From 1976 to 2014, Hanne Stange was for periods associated with Hjorths Fabrik, where she partly produced Hjorth's own designs, but also her own unique products.
Hanne has worked with various clays, although always stoneware often from Bornholm and with decorations printed or stamped into the wet clay.
Today she has her own small workshop in Rønne.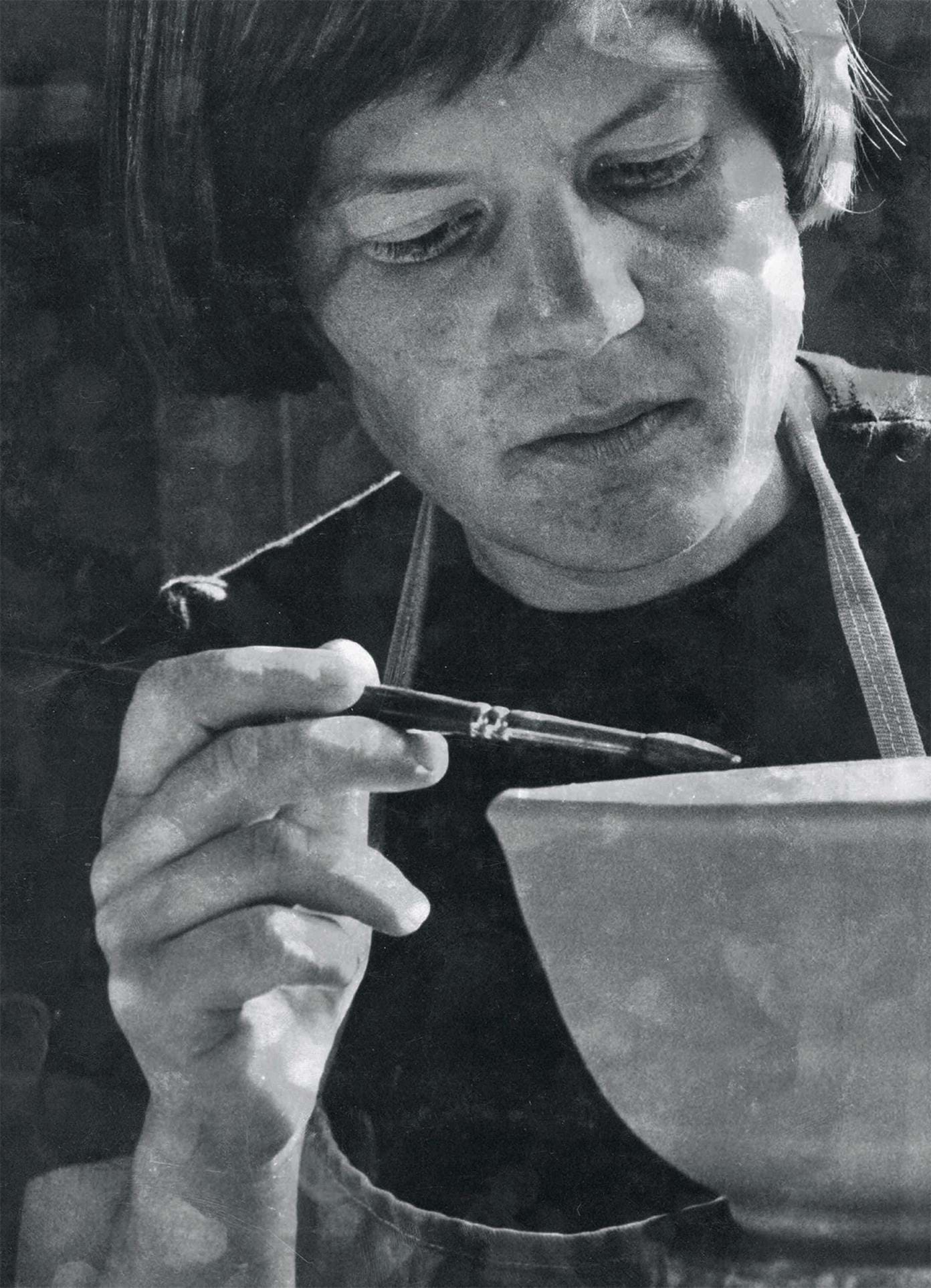 CRAFTS UTENSILS
– ULLA HJORTH
Ulla (b. 1945) is the other daughter of Erik Hjorth. She helped run the factory with her sister Marie in its last days as an independent company.
Ulla graduated from School of Arts and Crafts in Copenhagen in 1969 and has her focus on the functional. The factory's traditions were then combined with new impressions from the School of Arts and Crafts.
Ulla Hjorth works with stoneware and mainly manufactures utility ware in simple, classic shapes and glazes.
Her work has been characterized as utility ceramics with qualities beyond the purely practical. "I emphasize that a teapot must be functional and that, that it is compatible with the shape", as she says.