ART RESIDENCIES
WELCOME TO HJORTHS FABRIK
Hjorths Fabrik offers AiR for professional artists as well as apprenticeship for aspiring ceramicists.
At Hjorths Fabrik we create artworks and stoneware using clay extracted from Bornholm's nature and traditional techniques.
We are dedicated to encourage and evolve artistic exchange on Bornholm and internationally, which is why we offer two types of programs.
WHAT TO EXPECT FROM THE PROGRAMS
A program for the professional artist working on their own project next to Hjorths Fabrik's production and a program for the student or ceramicists who wants to learn working with production and processes as well as communicating with guests.
It is important to know that Hjorths Fabrik is a working museum. That means that the workshop and your workstation is open for visitors and you are expected to engage with the visitors' questions about your work and processes.
We aim to keep the museum open for visitors all year-round, however the summer season is the busiest.
The facilities offered are mainly shared; the factory has an open workshop environment and the rooms share kitchen and bathroom.
We aim to build new relations between Danish and international artists, and foster the meetings between local and international ceramic crafts and art scenes.
As an artist in residency as well as an intern, we expect you to be open to cooperating and sharing your knowledge to both professionals and tourists on Bornholm.
 
ARTIST IN RESIDENCE PROGRAM
We offer a unique stay for mutually inspiration and artistic approaches in our newly renovated accommodation.
Artist in residence is a program for the professional Danish or international artist working with ceramics. It is an opportunity to have a creative space, to network and to be inspired from the works and traditions from the factory that has existed since 1859.
You will have your own separated workstation at your disposal, however all workshops are open for visitors.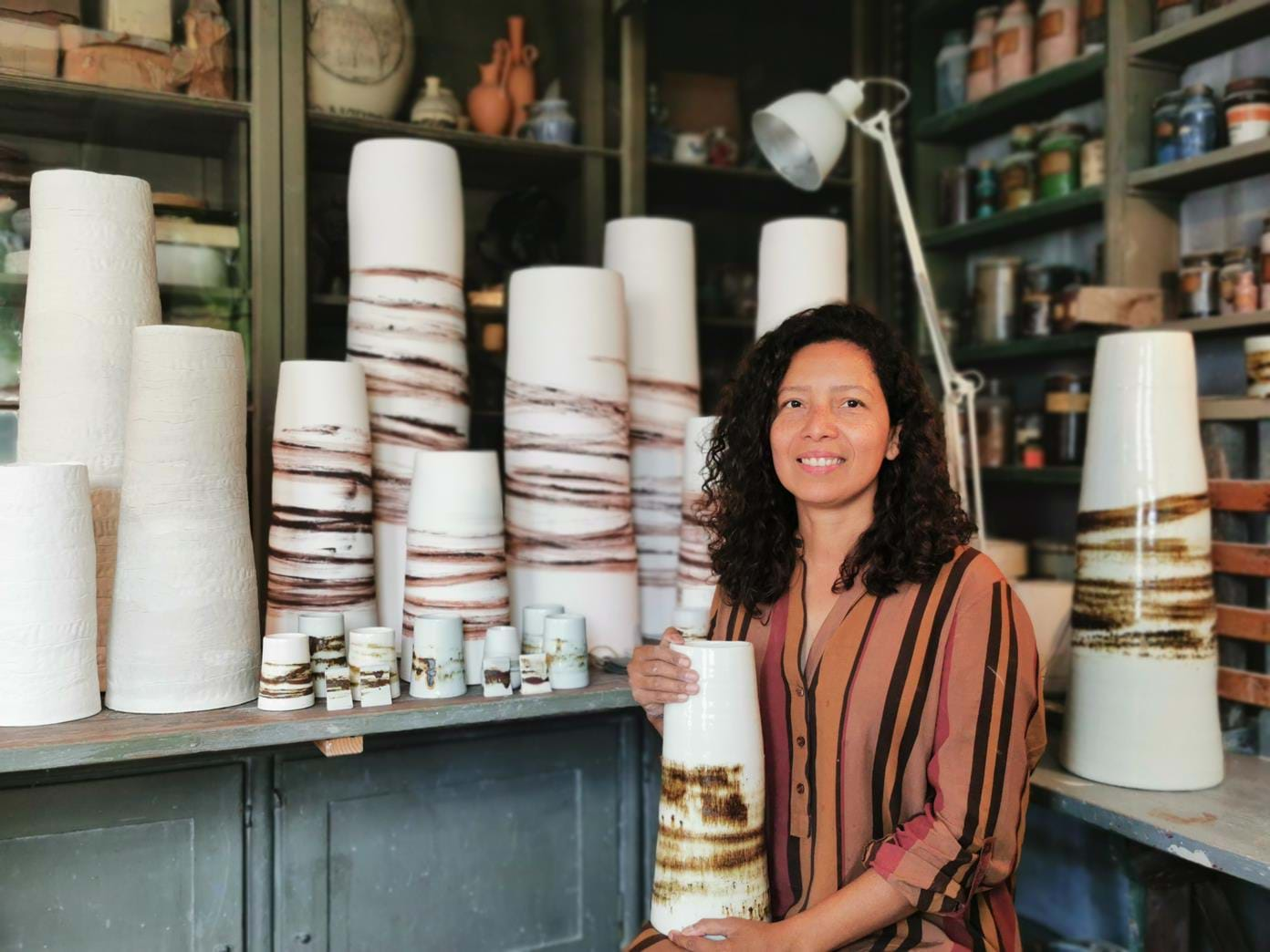 "A unique immersive and enriching experience! One that allows you to travel into the local history and traditions of ceramics. As well as to connect with the people working at the factory (then and now) who in my opinion, are the heart of Hjorths Fabrik"

- Jessica Liliana Rios Gomez, Dec. 2020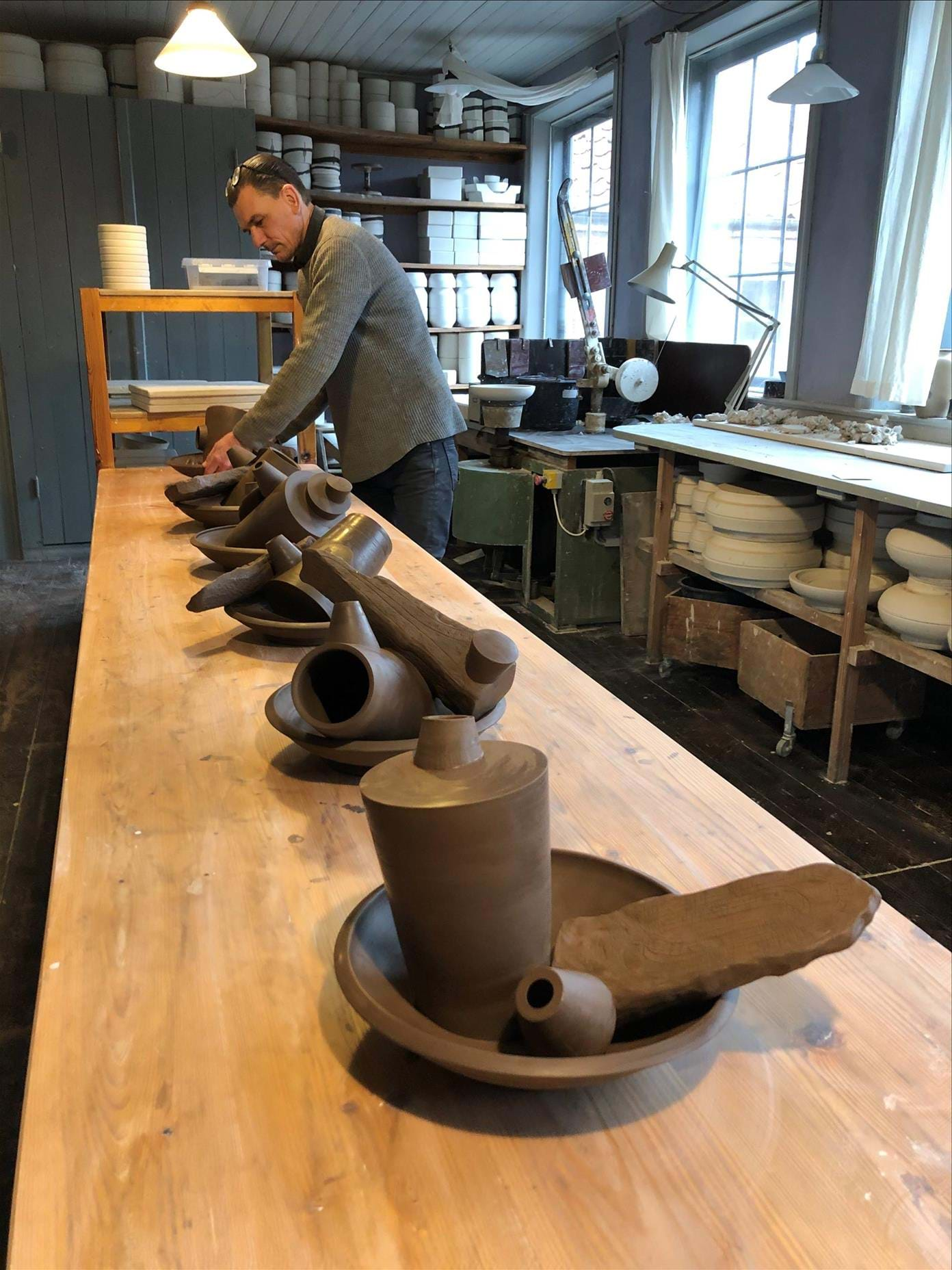 WANT TO BECOME AN ARTIST IN RESIDENCE?
To receive the AiR program you must be a professional artist, donate two artworks; one existing piece and one created during the residency, and to make a contribution to the local community on Bornholm during your stay e.g. an artist talk or event.
This program is for you who want to start a new project in a vibrant and inspiring environment. There are no requirements for the purpose of your stay or your project as long as the project is able to run alongside Hjorths Fabrik's production.
Hjorths Fabrik will provide you with accommodation and a creative space in historic buildings to create your next project, as well as materials within reasonable limits throughout your stay. This will depend and be assessed on the basis of the project.
We admit two artists for our AiR program program per year. Download our guide to applying for Artist in Residence.
"At arbejde på Hjorths Fabrik er en enestående mulighed for en transhistorisk dialog med 160 års dansk keramiktradition.

De arbejder jeg har lavet på Hjorths har klart taget farve - både teknisk og kunstnerisk - af omgivelserne.
Følelsen at være et led i en kæde af keramiske formgivere er konstant nærværende og inspirerende"

- Michael Geertsen, Dec. 2020.
SUBMISSION
Please send your application including CV, five photos of your artworks, purpose of your stay / description of your project of max one page.
Applications must be submitted no later than January 10th 2021 for the Spring period and June 10th 2021 when applying for the Fall period. You can expect a response February 1st (Spring) and July 1st (Fall).
All professional artists are selected by our art jury; Michael Geertsen, Anne Mette Hjortshøj and Gurli Elbækgaard Kristensen.
DURATION
You can live and work as an artist in residence at Hjorths Fabrik for a period of three months; either March-April-May or September-October-November. However, we may agree otherwise if you have individual wishes.
MAKER'S ISLAND BORNHOLM
"Bornholm is the first region in Europe and the first island community in the world to be honored the title of World Craft Region."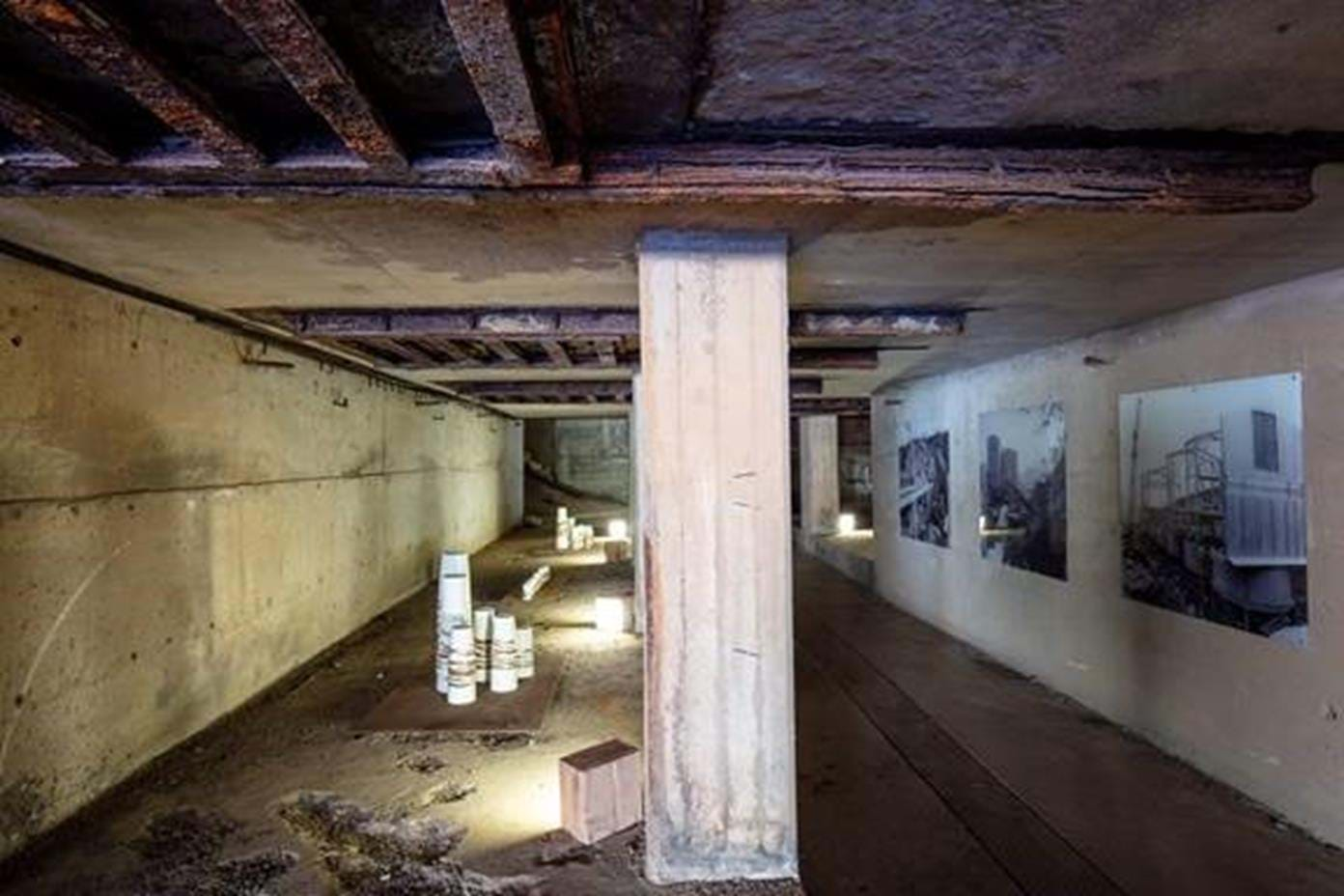 SUMMER APPRENTICE
Hjorths Fabrik is happy to offer apprenticeships for 2nd semester students at School of Design's Craft Program - Glass and Ceramics in Nexø and students from other recognized design or craft schools. However, this is not a requirement to be accepted.
As an apprentice you will be included in our production and have fixed tasks organized in collaboration with the other employees at Hjorths Fabrik.
During the stay you will become acquainted with various ceramic processes, freehand throwing - glazing - slip casting, and take part in gas kilns firings.
As an apprentice, you will have free accommodation on site and you earn 20% of the sales price ex. VAT from your production sold as 1st sorting.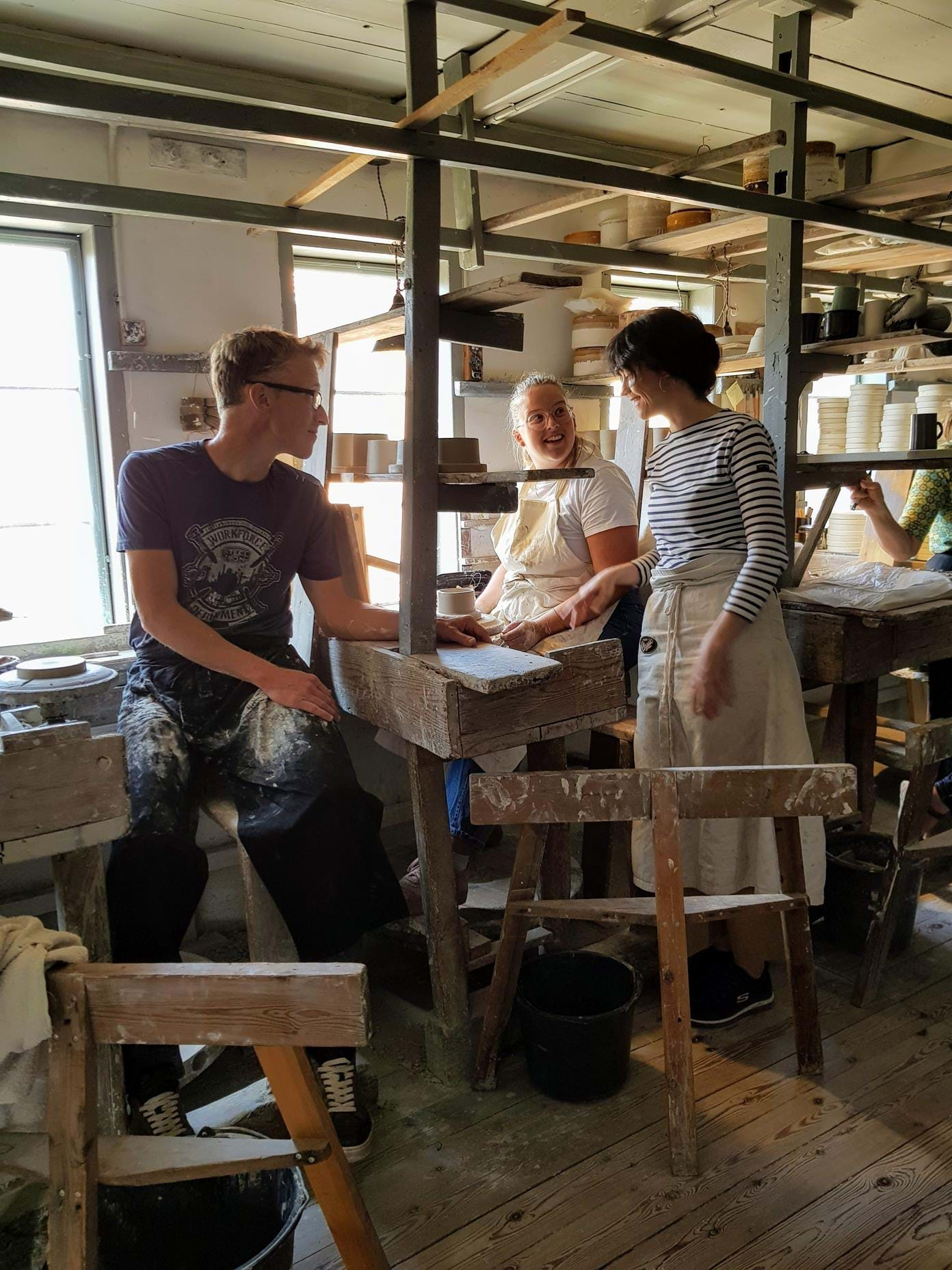 BECOMING AN APPRENTICE
As an intern, we expect you to be wanting to take part of a ceramic production and improve your skills within the ceramic crafts.
It is also to be expected that you will engage with our curios visitors of the museum who may have questions about the production and thereby strengthen your dissemination skills.
The apprenticeship at Hjorths gives you the possibility to profit from the sale of your production, build a professional network and learn about the traditions and craftmanship.
We admit 3-4 apprentice per year during the summer.
SUBMISSION
Please send your application to kas@bornholmsmuseum.dk no later than January 10th 2021.
Apprentices are selected by Head of Hjorths Fabrik, Karina Skibby and you will receive your response February 1st 2021.
DURATION
Summer apprentices can work and live at Hjorths Fabrik for a period of up to three months; June-July-August. However, we may agree otherwise if you have individual wishes.
THANKS TO OUR APPRENTICES 2020
From left to right: Søren from Denmark, Ellie from England and Carmen from Spain.